Système Nouvelle Génération de Préparation de Librairies NGS Biomek NGeniuS
Présentation d'un automate de pipetage fiable, facile à utiliser et conçu spécialement pour la préparation de librairies NGS. Biomek NGeniuS est idéal pour les laboratoires nécessitant plus de flexibilité et moins de temps de manipulation. Le logiciel intuitif ne nécessite aucune compétence de programmation complexe, ce qui le rend facile à configurer et à utiliser.
Le Dynamic DeckOptix du Système Biomek NGeniuS réduit les erreurs en identifiant le matériel de laboratoire mal placé
Le thermocycleur, la pince et l'aliquotage des réactifs sur la plateforme permettent une meilleure autonomie de l'automate
Le nouveau logiciel Biomek NGeniuS permet la configuration virtuelle des batchs et la surveillance du système
Une large bibliothèque de protocoles complémentaires démontrés de préparation d'échantillons NGS vous aide à être opérationnel plus rapidement
Explore Biomek NGeniuS Models
Caractéristiques du Biomek NGeniuS
Réduction des erreurs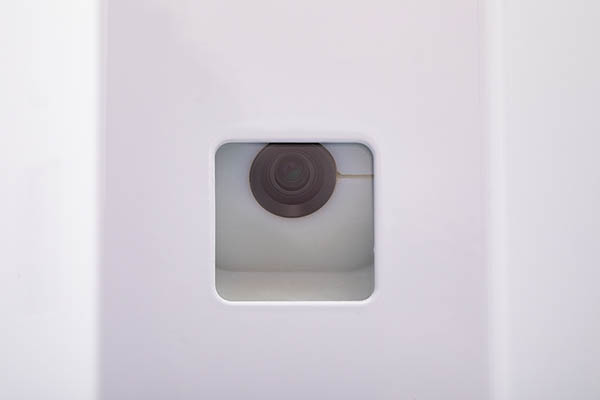 Dynamic DeckOptix utilise une analyse optique de pointe pour vous donner un retour d'information en temps réel sur le placement de votre matériel de laboratoire, tout en fournissant une confirmation logicielle lors du placement correct afin d'éliminer pratiquement toutes les erreurs de chargement
Le système d'identification des réactifs utilise une technologie avancée de reconnaissance optique des caractères pour la confirmation des réactifs et la détection des erreurs avant qu'une seule goutte de votre précieux réactif ne soit utilisée
Temps de manipulation minimal
Le Système de Gestion des Réactifs combine un carrousel d'entrée innovant avec des zones de stockage des réactifs à température contrôlée, ce qui réduit les étapes de pipetage inutiles tout en limitant l'exposition des réactifs à l'environnement extérieur
Le thermocycleur standard sur la plateforme réduit le temps de manipulation pour les protocoles NGS
La pince pour le transport du matériel de laboratoire sur la plateforme prolonge l'autonomie de l'automate et permet le traitement des protocoles de bout en bout
La tête de pipetage sélective permet de manipuler des cônes configurés 96 et 384 sans outils ni changement de tête
Facilité d'utilisation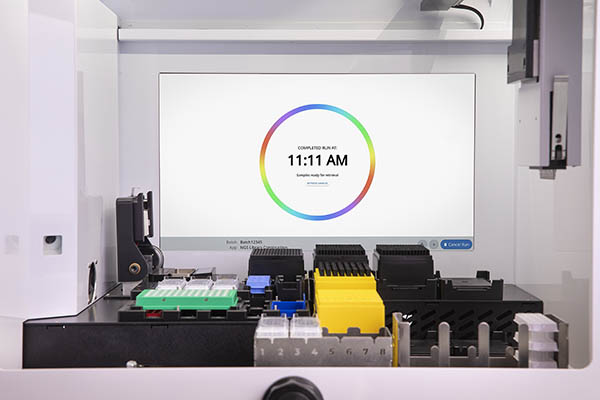 Le logiciel Biomek NGeniuS Portal permet la mise en place de batchs et la surveillance virtuelle à l'aide de Google Chrome ou Microsoft Edge
Le processus de configuration des batchs du Biomek NGeniuS comprend six étapes faciles et ne nécessite aucune connaissance en programmation
L'Assistant (Work Aid) Biomek NGeniuS vous permet de générer une liste de contrôle pour la sélection et la préparation des réactifs et du matériel de laboratoire
Le bouton de commande du logiciel rend la programmation de l'instrument aussi simple que de tourner et sélectionner
L'affichage tête haute 24" vous permet de rester concentré sur ce qui est important pour vous
Le voyant d'état multicolore à 360° vous informe de l'état de l'instrument
Flexibilité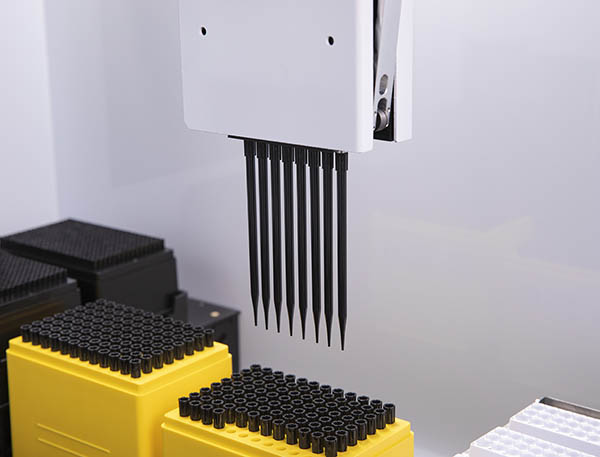 La flexibilité des batchs vous permet d'exécuter n'importe quel nombre d'échantillons, de 4 à 24, tout en minimisant le gaspillage de réactifs et en offrant le délai d'exécution que vos clients attendent
Une bibliothèque de méthodes complémentaires démontrées de préparation de librairies NGS pour le séquençage de l'ADN et de l'ARN, et la possibilité d'utiliser des boîtes de cônes partiellement vides, signifient que vous n'avez pas à jeter les boîtes de cônes à moitié pleines ou à transférer manuellement les cônes pour optimiser l'utilisation des cônes
Méthodes de Préparation Automatisée des Echantillons de Séquençage Nouvelle Génération
Biomek NGeniuS est livré avec une large liste de méthodes complémentaires démontrées de préparation de librairies NGS. Nous nous associons aux fournisseurs de kits de réactifs pour automatiser les protocoles des kits en utilisant des échantillons pertinents, afin de fournir des données équivalentes à celles décrites dans la littérature publiée par le fabricant du kit. Notre engagement à agrandir continuellement le portefeuille de méthodes signifie que vous disposez d'un large éventail de méthodes de préparation de librairies NGS.

Méthodes démontrées :

Illumina DNA Prep
Roche KAPA HyperPlus
Roche KAPA HyperPrep
NEB Ultra II RNA
xGen™ cfDNA & FFPE DNA Lib Prep Kit
*Agilent SureSelect XT Human All Exon v6
IMPORTANT: Beckman Coulter makes no warranties of any kind whatsoever express or implied, with respect to this App Template, including but not limited to warranties of fitness for a particular purpose or merchantability or that the App Template is non-infringing. All warranties are expressly disclaimed. Your use of the App Template is solely at your own risk, without recourse to Beckman Coulter. This App Template has been demonstrated for use on the Biomek NGeniuS system for the chemistry kit version and the release date shown at the time when the App is selected and created, but has not been validated by Beckman Coulter for use in the diagnosis of disease or other clinical conditions.
Products and demonstrated applications are not intended or validated for use in diagnostic procedures.
©2022 Beckman Coulter, Inc. All rights reserved. Beckman Coulter, the Stylized Logo, and Beckman Coulter product and service marks mentioned herein, including Biomek and Biomek NGeniuS, are trademarks or registered trademarks of Beckman Coulter, Inc. in the United States and other countries. All other trademarks are the property of their respective owners.