Logiciel CytExpert pour la plateforme CytoFLEX
CytExpert est un progiciel très efficace qui contrôle le fonctionnement de l'instrument, collecte et analyse les données. Les utilisateurs de cytomètres débutants et expérimentés peuvent apprendre à utiliser le système rapidement, définir des protocoles basés sur des expériences en toute confiance et exporter les données sur la qualité des articles publiés.
L'option d'installation par défaut ne nécessite aucune connexion de l'utilisateur
L'option d'installation Gestion des utilisateurs contient des fonctionnalités pour l'utilisateur et la gestion des rôles
L'option d'installation de Gestion des fichiers électroniques fournit des outils pour la conformité à la norme 21 CFR partie 11
Afficher la note de publication pour la dernière version
Acquisition Options (Préférences de l'espace de travail - Options d'acquisition)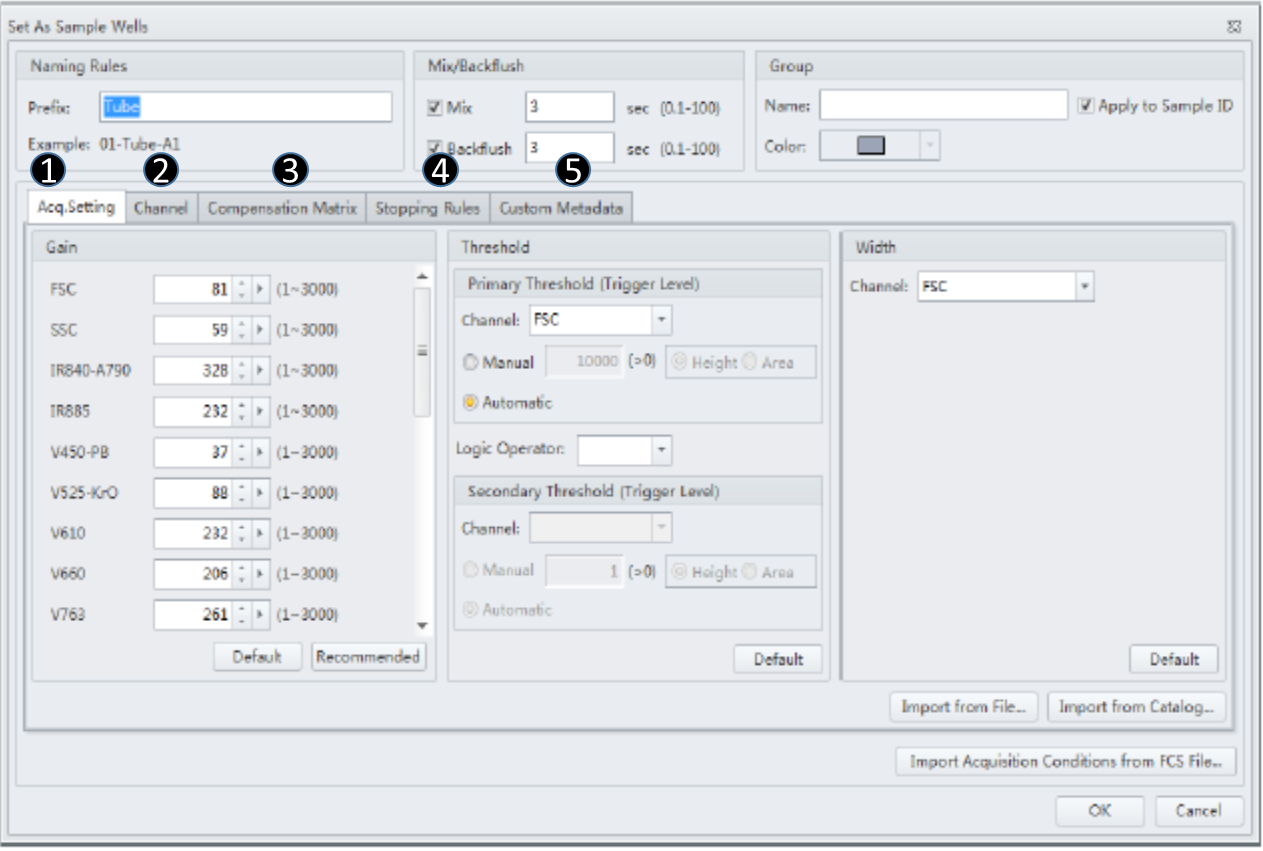 Paramètres d'acquisition : Sélectionnez les paramètres d'acquisition souhaités dans l'onglet Acq. Setting (Paramètres d'acquisition). Les paramètres peuvent être importés d'un fichier FCS ou du catalogue de paramètres. 
Channel (Canal) : Sélectionnez les canaux et créez les étiquettes des noms dans l'onglet Channel (Canal).
Compensation Matrix (Matrice de compensation) : Définissez une compensation dans l'onglet Comensation Matrix (Matrice de compensation).
Stopping Rules (Règles d'arrêt) : Sélectionnez Events to record (Événements à enregistrer), Time to record (Heure à enregistrer) ou Volume to record (Volume à enregistrer) dans l'onglet Stopping Rules (Règles d'arrêt).
Custom Metadata (Métadonnées personnalisées) : saisissez jusqu'à dix identifiants d'échantillons manuellement. Sinon, importez dans une configuration de plaque depuis un ficher.csv.
Caractéristiques d'analyse
Types de graphes
Grilles
Statistiques
Compensation

Histogrammes
Graphes Dot
Graphes Density
Graphes Contour
Graphes Overlay
Graphie Pseudo Color
Carte de chaleur

Lasso
Polygon (Polygone)
Rectangle
Quatre quadrants
Articulé
Auto polygone 

Number (Nombre)
% Total (Total en %)
% Gated (% avec gate)
% Grandparent (% grands-parents)
Median (Médiane)
Arithmetic Mean (Moyenne arithmétique)
Mode
Écart-type (ET)
Coefficient de variation (CV)
Absolute Count (Valeur absolue)

Réglage de la compensation
Enregistrement d'un fichier *.compensation
Enregistrer une bibliothèque de compensation
Importation d'un fichier *.compensation
Prise en compte de l'autofluorescence 
Exigences informatiques minimales
| | |
| --- | --- |
| Processeur requis | Intel® Core™ i3 de 4e génération (3 MB Cache, 2.90 GHz) équivalent ou supérieur |
| Système d'exploitation requis | Windows® 7, 8, 10 Professional 64-bit |
| Mémoire requise | 4 GO RAM ou supérieure |
| Espace disque requis | Au moins 1 G d'espace libre pour le disque de l'expérience pour analyse. Recommandation de 10 G pour l'acquisition de données. |
| Affichage requis | Résolution de 1 920 x 1 080 pour un affichage optimal |
| Port USB | USB 2.0 ou supérieur pour l'acquisition des données |
CytExpert software request