Obscurcissement : méthode optique de détection des particules 
L'obscurcissement, ou la détection optique des particules simple (SPOS), est une technique d'analyse haute résolution, capable de détecter un faible pourcentage de valeurs hors norme. Elle peut également être utilisée pour obtenir une distribution en volume globale, mais la concentration de l'échantillon est un facteur important lors de l'utilisation d'un compteur de particules à obscurcissement. L'échantillon doit être présenté sous forme diluée pour l'analyse.
L'obscurcissement fonctionne en passant un flux dilué de particules dans une suspension liquide, entre une source lumineuse et un détecteur. Dans le compteur de particules dans les liquides HIAC 9703+, la source lumineuse est une diode laser qui éclaire les différentes particules dans le flux pour générer une ombre ou un bouchage de la lumière sur le détecteur. Ce bouchage est appelé « obscurcissement ». Le détecteur mesure la réduction de l'intensité lumineuse et traite le signal à l'aide d'une courbe de calibrage afin de déterminer la taille des particules.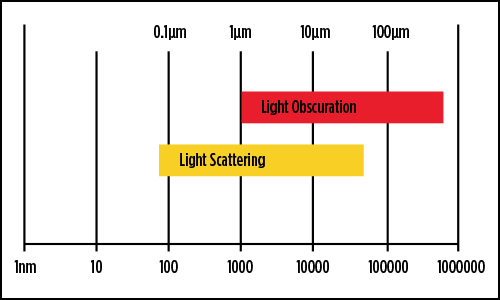 Light obscuration technique provides good results from one to several thousand microns for any kind of foreign material in a liquid.
Largement utilisée dans différentes applications pharmaceutiques, la technique d'obscurcissement est considérée par l'ISO et la norme USP comme la principale méthode de mesure de la taille et du nombre de particules dans différents échantillons, y compris dans les formules à base de protéines et les autres préparations stériles.
Avantages de l'obscurcissement
Analyse rapide – résultats en quelques secondes
Traitement automatisé – élimine les erreurs de l'opérateur
Pas de produits chimiques/consommables supplémentaires requis
Répétabilité et reproductibilité entre les instruments
REMARQUE : Le compteur de particules dans les liquides HIAC 9703+ est conçu pour différentes applications pharmaceutiques et fonctionne pour l'analyse selon les normes USP <787> et <788>.788>787>