AMPure XP pour la purification PCR
Purification et sélection par taille
Vous pouvez utiliser notre réactif exclusif SPRI à base de billes paramagnétiques pour éliminer les contaminants (dNTPs, sels, amorces, dimères d'amorces) tout au long de vos workflows NGS.
Utilisé dans une variété de protocoles de préparation de librairies NGS
Compatible avec le traitement manuel et automatisé
Récupération supérieure d'amplicons > 100 bp
Sélection par taille cohérente et prévisible
Besoin d'un certificat d'analyse (COA)? Utilisez la barre de recherche en haut de la page et recherchez votre numéro de lot.
Explore AMPure XP Reagents
Workflow d'AMPure XP

Caractéristiques du produit
Aperçu
AMPure XP élimine les contaminants indésirables de l'ADN dans une variété d'applications, notamment PCR, NGS, clonage et microarrays.
Récupération élevée
La récupération efficace de votre échantillon garantit que les données importantes ne soient pas perdues au cours du workflow.
Référence pour les workflows NGS
Réactif fiable et recommandé pour les étapes de sélection par taille et de purification dans une variété de workflows NGS.
Flexible et évolutif
Les purifications manuelles utilisant AMPure XP nécessitent moins de 30 minutes. Pour les besoins de rendement plus élevés, AMPure XP est automatisé sur toutes les plateformes Biomek, permettant le traitement des centaines d'échantillons par jour.
Référence bibliographique
Peffers, M. J., Liu, X., et Clegg, P. D. (8 mars 2014). Transcriptomic profiling of cartilage ageing. Genomics Data, 2, 27-28. doi:10.1016/j.gdata.2014.03.0011
Utilisé pour nettoyer l'ADNc
Greenwald, W. W., Li, H., Benaglio, P., Jakubosky, D., Matsui, H., Schmitt, A., . . . Frazer, K. A. (5 mars 2019). Subtle changes in chromatin loop contact propensity are associated with differential gene regulation and expression. Nature Communications, 10(1054), 1-17. doi:https://doi.org/10.1038/s41467-019-08940-51
Utilisé pour nettoyer les réactions PCR à codes-barres durant la préparation de bibliothèques
Ne perdez pas des données cruciales
Lorsque tant de choses ont été investies dans votre recherche, AMPure XP est le seul choix pour les étapes de purification. La perte de rendement au cours cette étape essentielle entraîne une perte de découvertes dans vos recherches.

Coûts relatifs des différentes étapes requises pour réaliser différentes applications NGS. Les étapes comprennent l'extraction, la constitution d'une librairie, l'enrichissement de la librairie, la purification, et le séquençage. Les coûts ont été calculés en fonction des prix moyens des kits et réactifs disponibles en 2017. L'efficacité de la purification a été calculée en déterminant le rendement d'ADN total par tests Picogreen après avoir effectué une procédure de purification sur une quantité d'ADN connue. Le pourcentage de rendement par rapport à la performance d'AMPure XP a ensuite été utilisé pour calculer l'impact de l'efficacité sur diverses méthodes de constitution de librairies disponibles dans le commerce et un changement de réactif de purification.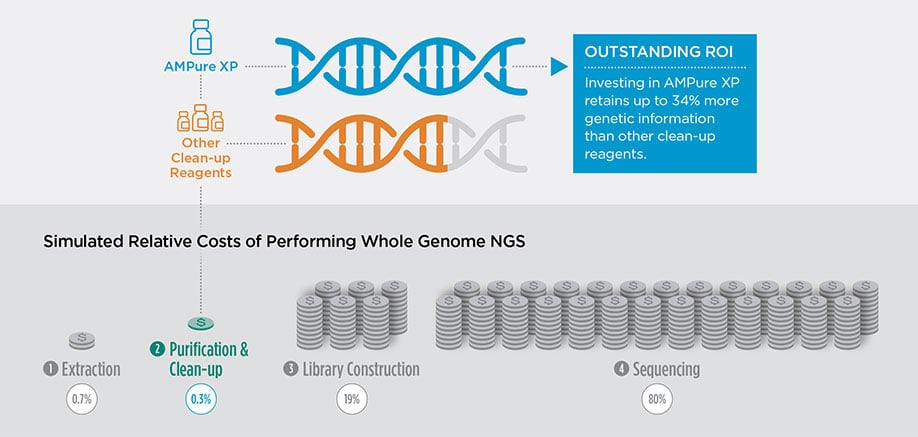 AMPure XP est la référence pour la purification à base de billes pour le Séquençage Nouvelle Génération (NGS)
Plus de 200 kits de préparation de librairies NGS suggèrent l'utilisation d'AMPure XP, y compris des kits fabriqués par des sociétés de séquençage reconnues :
Illumina®
Nanopore
PacBio
ThermoFisher Scientific
Plus de 15 000 publications ont utilisé AMPure XP, cité dans des articles parus dans la revue Science, Nature, et la revue PNAS.
La purification des acides nucléiques est nécessaire pour les applications génomiques, telles que le séquençage, la qPCR/ddPCR/PCR, et les microarrays. Maximisant le rendement, la cohérence et la vitesse, AMPure XP répond aux exigences élevées des applications génomiques d'aujourd'hui et réduit au minimum le risque de perdre des informations génétiques importantes.
Récupération d'amplicons élevée supérieure à 100 bp
Élimination efficace des dNTP, amorces, dimères d'amorces, sels et autres contaminants non incorporés
Sélection de taille cohérente et prévisible
«Nos résultats suggèrent qu'AMPure XP serait le meilleur choix pour les analyses nécessitant une rigueur analytique très élevée.» Mikheikin, A., Olsen, A., Picco, L. Et al. High-speed atomic force microscopy revealing contamination in DNA purification systems. Anal. Chem. 88:5, 2527-2523 (2016) doi: 10.1021/acs.analchem.5b04023.1
1Disclaimer: Beckman Coulter makes no warranties of any kind whatsoever express or implied, with respect to this protocol, including but not limited to warranties of fitness for a particular purpose or merchantability or that the protocol is non-infringing. All warranties are expressly disclaimed. Your use of the method is solely at your own risk, without recourse to Beckman Coulter. Not intended or validated for use in the diagnosis of disease or other conditions. This protocol is for demonstration only, and is not validated by Beckman Coulter.
Documents techniques
Didn't find what you are looking for? For more results click
ici.